CORPORATE HISTORY
First about the past, as taken from our corporate archives. Founded in 1911, we point with pride to our record of progress and service:
John C. Campbell, born in 1860, had a boyhood ambition to be a wire weaver. He served as a bobbin winder, 60 hours/week for $2.50. He apprenticed learning the weaving trade. Borrowed $210.00, bought (3) old fashioned hand looms and started in business founding the Newark Wire Cloth Company in 1911.
1911 – Newark produced 130 mesh screen — the first finer than 100 mesh manufactured in the United States.
1919 – We introduced 200 mesh, followed by 250 and 325 mesh.
1928 – We brought to the world the finest wire mesh yet produced — 160,000 holes per square inch— 400 x 400 mesh.
We were also the first to put the finer meshes of wire cloth woven of Monel metal and stainless steel on the market; first to produce filter cloth with a spiral overlap weave, double-faced, and smaller wedge openings for better filtration; and first to offer gasketed filter cloth.
We have always worked from a sound, conservative sales policy of selling our products on merit and performance, not on glowing promises or exaggerated claims. Some of our highlights follow:
World War II until the mid 1930's, we were strictly a weaver of wire mesh until the mobilization of American industry to support the war effort. Now began the fabricating of wire cloth parts. The government and aircraft engine manufacturers had turned to Newark Wire Cloth for its expertise in wire cloth, manufacturing mission critical strainers and filters for national defense needs.
1973 – Acquired Sani-Filtration Products Company. This acquisition allowed Newark to diversify our wire cloth fabrication to the next level, able to supply strainers (conical, flat plate, and basket strainers) to both the industrial and ˜food and beverage processing industries.
1986 – We were one of the original suppliers of 'air bag' filters and screens to automotive manufacturers. When 'Air Bag' inflator assemblies were first available on the passenger side of the Lincoln Continental — Newark was supplying the parts. Our expertise was instrumental in helping to establish some of the material specifications used in this revolutionary new safety product.
2001 – Launched the SuperlaSieve™ product line.
2002 – We introduced the SaniClean Strainer™ product line.
2004 – We achieved dual certification – AS9100 & ISO 9001:2008 Certified and Registered
2005 – We moved from Newark, NJ to more efficient facilities in Clifton, NJ.
2011 – 100th Year Anniversary
Add to the foregoing the reputation we have earned for precision and quality. Today some 100+ years later the reason is clear why customers in all different industries specify: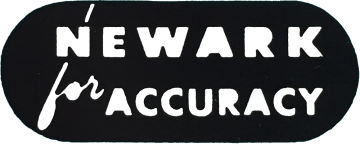 Newark Wire Cloth is committed to providing top quality wire cloth, fabricated wire cloth parts, and engineered filtration products.

WE LOOK FORWARD TO WORKING WITH YOU!
PHONE:
T: (800) 221-0392
L: (973) 778-4478
F: (973) 778-4481
E: sales@sanicleanstrainers.com