Manufacturers of fluids, solutions or food products need Side Inlet Strainers to maintain product quality, given the contaminants and defects that often enter into production processes. SaniClean Strainer assemblies, replacement parts and filtration media meet or exceed industry standards for wire cloth and strainer components. Whether you need to test your solutions or develop new product mixes, Side Inlet Strainers can elevate the way you do business.
What is a Side Inlet Strainer?
If you want to strain particles from a fluid or solution, you need a device such as a Side Inlet Strainer to facilitate the process. Strainer assemblies include a: filter body, top cover, distributor cap with handle, perforated backup tube with handle, clamp, spring and gasket. You can perform tests on solutions, define the character of particle compositions or take samples using various filter media compatible with this type of strainer. Long, cylindrical and easy to install, Side Inlet Strainers often prove invaluable in quality management systems, allowing for process variation to be monitored and quickly corrected.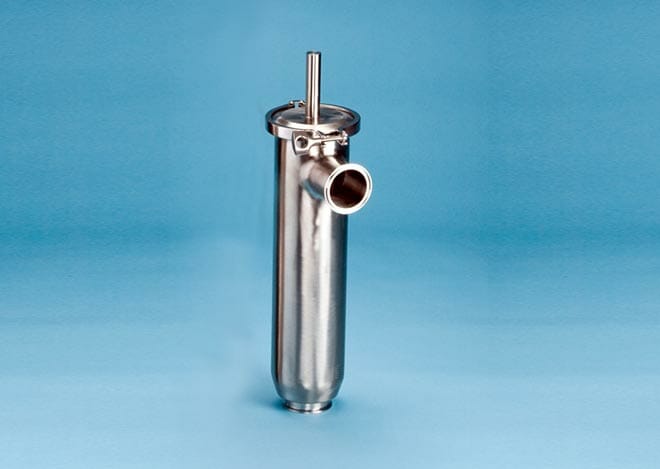 Key features of Side Inlet Strainers:
Short and long capacities

Line sizes ranging from 1 to 4

Clamped, I-Line, Bevel Seat and Butt Weld connections available
Side Inlet Applications
Food, pharmaceutical and chemical producers can use Side Inlet Strainers to improve product quality. For example, strainers can measure particle contamination within drinking water or within medicines, allowing manufacturers to gauge the effectiveness of their production line. Quality control initiatives need devices such as Side Inlet Strainers to provide engineers feedback on product and production design. Companies looking to implement six sigma, lean and quality management systems need reliable straining and measurement devices to improve customer satisfaction.
Filter media
compatible with Side Inlet Strainers:
Filter socks

Wedge wire strainer elements

Perforated backup tubes

Wire Mesh OverScreen

SKS OverScreen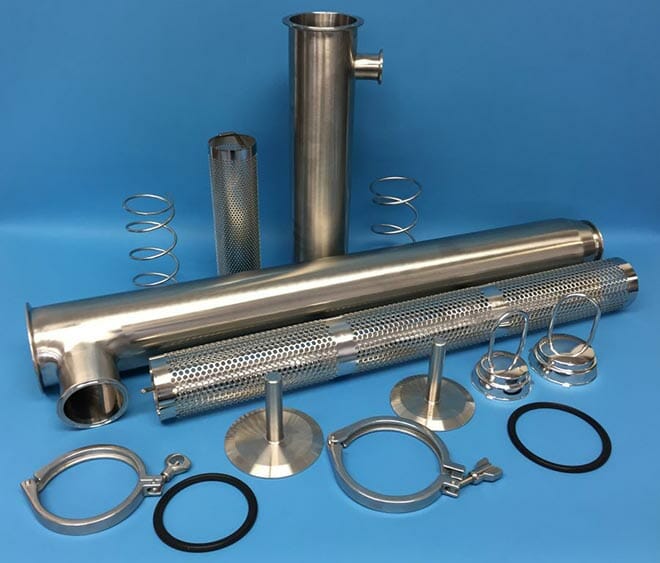 Side Inlet Maintenance
Maintaining Side Inlet Strainers is made easier by SaniClean Strainers. Units are designed to be easy to clean and remove from production. Replacement parts are readily available and are of comparable quality relative to original assembly components. Given that SaniClean produces assemblies designed to meet or exceed ISO and other quality organization standards, end-users can count on strainers to be reliable and not need excessive maintenance or repair. Support is available for manufacturers looking to adjust strainers once they're on the production line.
Benefits of Side Inlet Strainers
In addition to long-lasting design and functionality, Side Inlet Strainers are easier to install and use in production relative to other models. They are dynamic and can be fit into tight spaces. They're also easy to store and dismount, in the event that operators need to retrieve test results or perform maintenance. The components of SaniClean Strainers are easily disassembled, giving technicians the time to focus their attention on serious maintenance issues elsewhere in production.
Summary of Takeaways:
Side Inlet Strainers facilitate the filtration and testing of a variety of solutions in the food, pharmaceutical and chemical industries.

Short and long capabilities, along with multiple filter media options, give Side Inlet Strainers versatility in production.

Whether clients need product support for a Side Inlet Strainer, Wedge Wire Strainer or an associated product, SaniClean representatives are available.

Side Inlet Strainers are cylindrical and compact, allowing them to be placed into service easier than other strainer models.
Side Inlet Strainers are designed to enhance product quality, adhere to quality assurance standards and meet customer requirements through versatility. All SaniClean Strainer units and components enhance production and have wide ranging functionality. To learn more about the capabilities of wire strainers and their applications, please contact SaniClean Strainers today.