Maintaining sanitary conditions is a prime concern for commercial milk processors. This includes maintaining clean equipment and promoting sanitary practices for employees working directly with milk products and our milk producers have long since developed successful practices to maintain these critical requirements.
The answer to maintaining the final milk and milk product quality, such as cheese, butter and yogurt, is found in the use of milk strainers and filters. It is in this area that producers turn to Newark Wire Cloth for their expertise and design capabilities.  Newark Wire Cloth partners with our milk producers to design and produce strainers to satisfy the size, flow and filtration needs of their process.
Why Sanitary Strainers?
Newark Wire Cloth Sanitary Strainers assure the highest level of milk quality while maintaining economy during processing. Filter elements, such as a Wedge Wire, Perforated, Wire Mesh and Synthetic Filter Socks as well as combinations of these various media types are all available to meet the needs of the operators and the process. 
These filtration systems can be composed of Inline, Side Inlet, "Y", "RS" (right angle), standard Basket and High Capacity Basket strainers. All are available with synthetic filter socks from 1 Micron and 5 Micron Alloy Filter Cloth. 3A approved ( .005" retention and greater) Wedge Wire is also available. 
The right sanitary strainers will ensure product uniformity and improve product quality.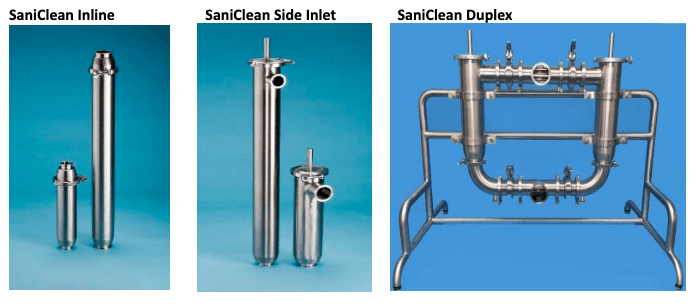 Benefits of Sanitary Strainers
1. Improved Milk Quality
For a consistently clean and debris-free production of milk, SaniClean sanitary strainers offer minimal clogging when the correct size and shape of mesh is used for filtering. The quality of your milk production is only as good as your filtering process removing any possible contaminants. 
2. Simple and Easy Solution
Milk strainers are the simplest solution for processing, Stainless Steel sanitary strainer directly in the process line offers an excellent value and is an easy solution for milk filtering. Not only can you expect a higher quality milk product, but maintenance is quick, effective and simple. 
SaniClean Strainers also protects downstream equipment such as pumps, meters, spray nozzles and needle valves which all contribute to the automation of your processes.
3. Sanitary and Corrosion-Resistant
Using 3-A authorized filters and strainers provides the advantage of being easy to clean and sanitize, and corrosion is eliminated as SaniClean Strainers are constructed from 316L stainless steel. Consider a milk strainer that is easy-to-clean, lightweight and offers a quick changeover and SaniClean is the answer.

Takeaways
Choose a quality inline strainer designed for your process.

Incorporate proper filter elements for ease of maintenance and operation.

Fabrication in accord with sanitary standards combined with corrosion-resistant alloys.
Where to buy milk strainers?
Newark Wire Cloth SaniClean strainer products are used in a wide variety of industries for screening and filtering of liquid processes. Visit us online at sanicleanstrainers.com to view our range of sanitary strainers for food, beverage, pharmaceutical, and other critical industries.