Sanitary strainers and accessories ensure that industrial operations produce safe, consistent and accurate finished products. Understanding the different components and how they intersect is important when deciding what your manufacturing business needs.
Here's a glossary of some of the most common strainers and their related products.
Filter Socks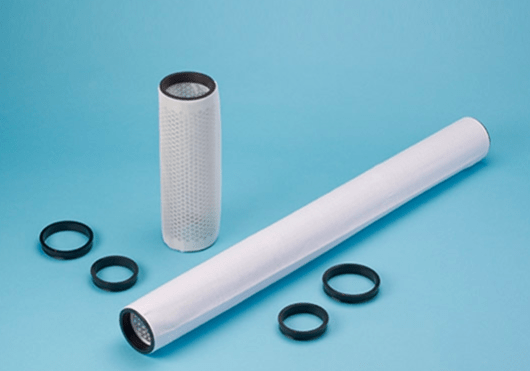 A filter sock is an additional layer of filtering that fits on the outside of an inline filter core and is held in place by a retaining ring. These disposable elements are installed over perforated back-up tubes and have retention ratings ranging from 25 to 1000 microns. They're an alternative to wire mesh overscreens and are ideal for mid-range straining and filtering applications in food and beverage and pharmaceutical production. They're often an economical alternative for filtration work compared to wire mesh, which must be cleaned and replaced. The best filter socks also reduce downtime and labor costs. SaniClean filter socks are available in cheesecloth, cotton, nylon, polyester, woven and non-woven rayon.
Basket Strainers
Sanitary industrial basket strainers provide a versatile solution for the straining of solids from liquid flows. Basket strainers are designed to operate at full line pressure and built to handle high volumes and long production runs. There are also duplex basket strainers, designed to allow for easy removal and cleaning or a high volume operation. Basket strainers have utility in multiple industries, including the military and the food and beverage, pharmaceuticals, power generation, irrigation, and automotive industries. They are excellent at protecting downstream equipment, preserving the life of liquids used in production, and ensuring products start clean.
Y Strainer Products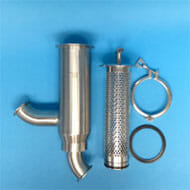 Y strainer filters offer optimal flexibility when keeping debris out of liquid or gas flows is critical. As the name implies, Y strainers have two openings. Gas or liquid flows into the strainer and uses mesh or perforated metal to remove particles of coarse, medium or fine thicknesses. Fluid passes through the discharge pipe on the other side, leaving the contaminants behind. Gaskets and plates ensure that liquid does not pass through until it's strained. They're frequently used to protect sanitary steam traps, control valves, meters, pumps and regulators. Y strainers differ from other similar straining solutions in that they allow for a continuous flow. They're reusable tools that use O-ring seals for strong retention and are available in various lengths and different connection constructions. Typically, Y strainer filters are used to remove smaller materials, meaning cleanings are infrequent. Y strainers can be cleaned using a blow-off feature that lets the screen be cleaned without being removed from the strainer body, resulting in more efficient operations.
RS Strainers Products
RS strainers are most commonly used in refrigeration systems to keep contaminants away from control valves. Stainless steel filters ensure that the mechanism will not interfere with the coolant being used. Alloys and coating materials such as silicon, Teflon and Viton are also available. These strainers are used in other functions when an inline basket strainer is too much. Like several other strainer types, the RS line can be installed either horizontally or vertically and cleaned without needing to disassemble the process piping. They also reduce pressure drops that can be harmful to components.
Duplex Strainers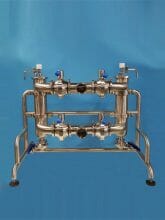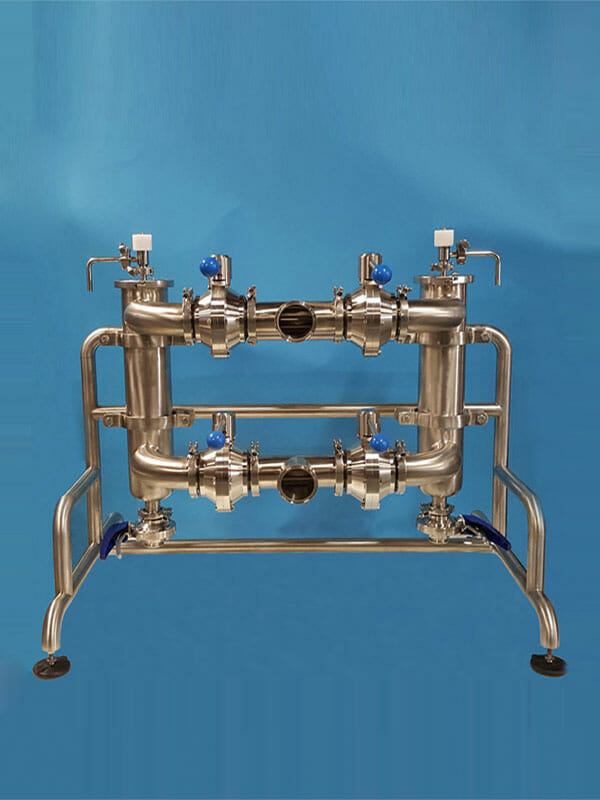 When choosing strainers for your manufacturing processes, you usually have a choice between simplex and duplex strainers. Duplex strainer systems are essentially two simplex strainers arranged next to or parallel to each other. With duplex strainers, which are commonly used in juice operations, you can strain for various pulp levels, remove particulates from water and other liquids, and remove soil and stems. Duplex strainers are made of stainless steel or other alloys that are corrosion-resistant. The duplex system eliminates the need for shutting down for cleaning. A clog monitor lets technicians know when one strainer needs to be cleaned and valves can switch production to the other. Duplex strainers also allow for more uniform finished products.
In summary
Filter socks — A disposable, affordable option that fits over perforated back-up tubes

Basket strainers — Multi-use strainers built for high-volume production

Y Strainer Products — Two-opening strainers that trap contaminants and debris

RS Strainer Products — Smaller strainers often used in refrigeration systems

Duplex Strainers — Parallel straining systems that allow for continual processing
When you need a reliable supplier for sanitary straining solutions, count on SaniClean Strainers to find the right part for any straining task. To learn more, contact us today!