Recent articles focusing on 3A certified industrial basket strainers demonstrated their importance in food processing, ice cream and cosmetic production, the dairy industry, and flavor creation. Now the versatility, capability and features of SaniClean Strainers™ basket strainers are highlighted in this general overview, along with several available equipment options.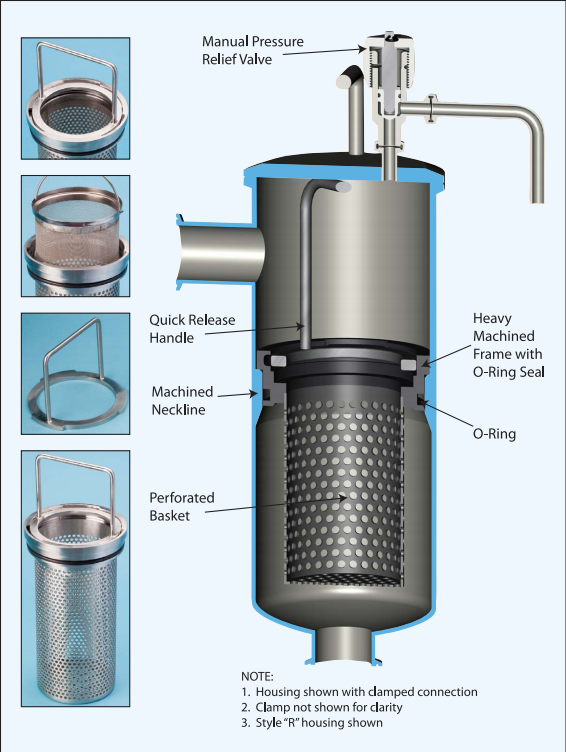 Filtering factors
When determining what type of stainless steel basket strainer will work best for your specific application, consider these two broad categories:
Physical characteristics
Line size
Types of piping connections (clamped, bevel seat, I-line, or other)
Construction materials
Gasket materials
Required particle, mesh, hole, or slot size in the strainer/filter element
Design considerations
What fluid is being processed?
Viscosity
Specific gravity
Operating temperature and pressure
Maximum permissible pressure drop
Percentage of solids
If the processed liquid has a high solid content, an industrial strainer basket with a greater area should be considered for longer run time between cleanings. Selecting the wrong sized basket strainer may lead to clogging and backup issues in the production stream.
Flexible filtration
SaniClean's stainless steel basket strainer is extremely versatile:
It is available in a wide range of sizes with standard surface areas ranging from 0.5 to 4.5 square feet
It fits Style R and Style S strainer housings and is interchangeable between the two
It is adaptable to provide coarse, medium and fine filtration levels by adding or removing wire mesh liners and polyester or polypropylene filter bags, or used alone without additional filtration
SaniClean strainer baskets are available in any size hole perforation and pattern
For processing applications requiring something other than a standard perforated strainer basket, all SaniClean basket strainers are also available with a wedge wire strainer basket
Getting a handle on strainers
Ease of installation and removal is one of the key features on all SaniClean basket strainers, and they have been engineered with two different handle options: a quick release handle or an integrated round rod handle for lower costs and simpler installations.
The quick release handle is designed to keep the perforated strainer basket fully seated against the machined neckline of the strainer housing, ensuring the product being processed does not bypass the strainer basket assembly
When engaged, the perforated basket is easily and safely moved, installed, or removed from the strainer housing. This allows full access to the inside of the perforated basket for cleaning, inspection or replacement of the wire mesh liner, basket or filter bag
This is where duplex configurations are exceptionally useful since one filter is always operating while the other is cleaned, inspected or replaced
More useful features
As previously mentioned, SaniClean basket strainers are widely used in the food, beverage, pharmaceutical and other high-quality processing applications.
Here are a few additional features that enhance their flexibility:
Changeover from a contaminated strainer basket to clean one is quick and easy, with less down time and more run time
The strainer basket is easily removed, cleaned and replaced without breaking the piping connection
They can be piped in a single or dual configuration
Strainer housings can be jacketed to accommodate higher viscosity materials
All SaniClean basket strainers are equipped with a top cover port for a pressure relief valve or other monitoring gauge to ensure safer processing operations
Review
SaniClean's stainless steel basket strainer is a highly adaptable fixture

and is among the

best strainer baskets on the market

It is interchangeable between R and S style housingsIt can filter from coarse to fine by adding wire mesh or filter bags
It is available in any size hole perforation and pattern
SaniClean Strainers, a Newark Wire brand and a top manufacturer in the industry, manufactures a complete line of wire cloth and industrial 3A certified strainers, inline strainers, baskets, basket strainer filters, assemblies, replacement parts, and filter media suitable for a wide range of applications and capacities. Contact them today and get their products and expertise working for your next filtration project.