An inline basket strainer is a cost-effective solution for manufacturers and processors. They can be installed in vertical or horizontal pipelines and can be configured for duplex piping.
The SaniClean R Style basket strainer features a side inlet and bottom outlet. The side inlet basket strainer is mainly used as an industrial food strainer, while also being used in the beverage industry. It has major benefits for your company, including:
Interchangeability

. No matter what kind of strainer basket used — perforated, perforated with a wire mesh liner, perforated with a metal strainer filter bag or wedge wire — fits either R or S strainer holder types.

Continuity.

Strainer baskets can be removed, cleaned or replaced with breaking a piping connection. Changeover is fast and easy.

Flexibility

. The SaniClean basket strainer can be piped in simplex or duplex configurations and are available in surface area capacities from 0.5 to 4.3 square feet.

Safety: All SaniClean basket strainers come equipped with a top cover port to accommodate a pressure relief valve, or another monitoring gauge to provide a safer processing operation.
The sanitary basket strainer features SAE 316L stainless steel construction and O-ring seals between the strainer basket and the strainer housing. Other features include two capacity options — Short (1.7 square feet) and Long (3.8 square feet).
The R Style industrial basket strainer comes with multiple strainer basket options, including:
Perforated baskets

Flat bottom basket (50 PSI pressure differential)

Truncated bottom basket (125 PSI pressure differential)

Wire mesh liner baskets

Wedge wire strainer baskets

Filter bags
SaniClean is one of the top basket strainer manufacturers in the industry. We also offer duplex basket strainers and Y strainers. To learn more about any of our types of basket strainers, contact us today.
STYLE R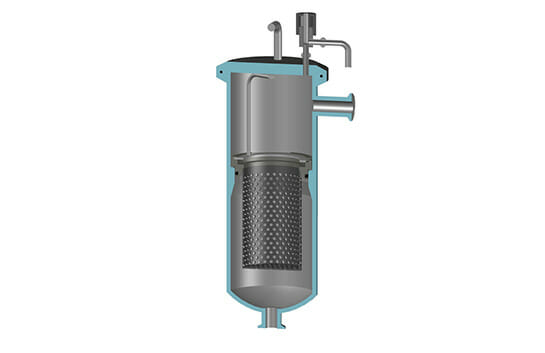 Side Inlet, Bottom Outlet
STYLE S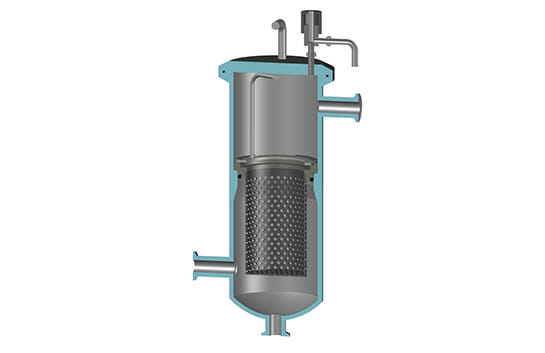 Side Inlet, Side Outlet, Bottom Drain
(ideal for duplex set-up)