For special processing applications which require basket elements other than the standard Perforated or Mesh Strainer Baskets, SaniClean Basket Strainers are also available as a SaniWedge Wedge Wire Strainer Basket. These Strainer Baskets are well suited for our High Capacity Strainers. Their rugged construction results in easy maintenance and are ideally suited for CIP processes. Importantly, they meet 3A requirements for slot sizes of .005" or larger.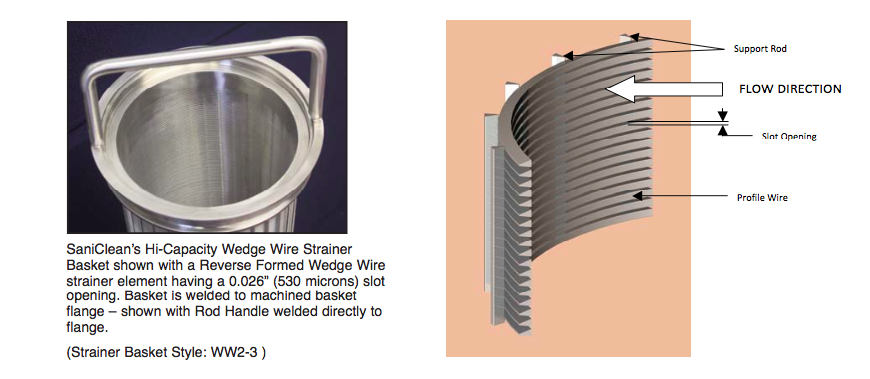 SaniWedge Strainer Baskets are available for all SaniClean Basket Sanitary Strainers. They are fabricated as standard wrap for out to in flow or as shown above with a Reverse Rolled Strainer Element for in to out flow, or with the Inverted Wrap Strainer Element style. The Inverted Wrap Strainer Element style is an economical alternative to Reverse Rolled construction. It is also an alternative to smaller diameter elements not suited for Reverse Rolled.

SaniClean Strainers' Wedge Wire Strainer Baskets can be fabricated to meet a variety of process applications. Backwash, High Viscosities and Flow Directions as well as process variations can all be accommodated. Available in both our Single and Duplex Strainer arrangements. By varying the profile wires and/or the support ribs the burst or collapse strength of the Basket Elements can be adjusted to meet the needs of high pressure drop requirements. Newark wire Cloth engineers stand ready to assist with your specific sanitary filtration application. As experienced Wedge Wire manufacturers, you can rely on us for all your sanitary strainer needs. Newark Wire Cloth Strainers include Inline, Side Inlet, "Y" and "RS" style . Contact us to learn more about our standard and custom fabricating capabilities.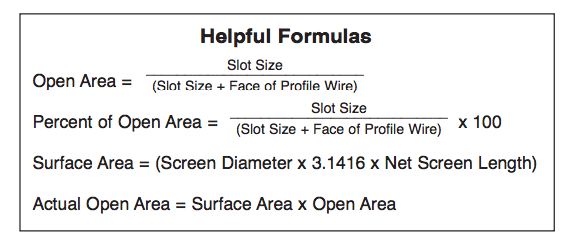 Showing the single result