In food and beverage production, texture and "mouth feel" (yes, it's a thing) are as important as taste. One of the ways successful companies stay at the top of the marketplace is by ensuring their production methods are creating the most appealing product possible. Separating particulate matter from end products to the right degree is an important way to achieve this, and involves the use of strainers, filters and overscreens fitted to equipment. Knowing the difference between straining and filtration products helps your company better invest in what it needs.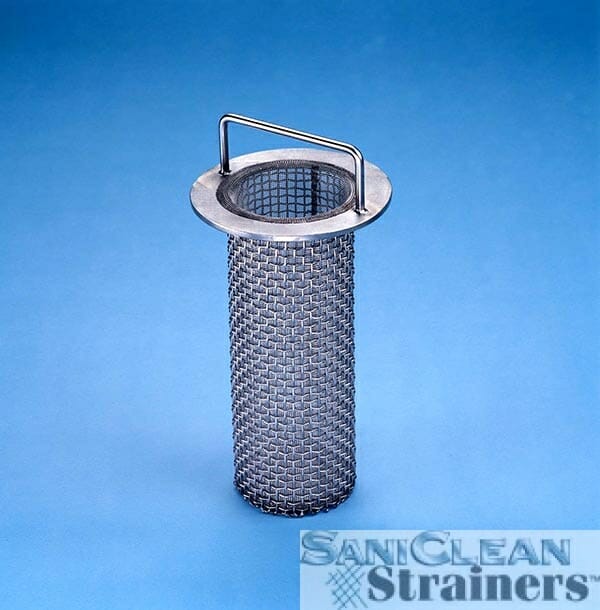 Strainers
What are strainers? Strainers are critical to industrial processes that require mechanical particle separation. They may be used to promote sanitation, produce a more palatable end-product, ensure product uniformity or simply protect critical and expensive equipment from clogs. While they come in a variety of shapes and sizes and levels of straining (coarse to fine), there is one common element among them: they need to be easy to disassemble and clean. Different types of strainers include:
Inline strainers. These long strainers mechanically remove unwanted solids from liquid, gas or steam lines. They're available in different lengths and diameters and can accommodate various levels of straining. Coarse straining often needs only the perforated back-up tube by itself. Medium straining might require the addition of a wire mesh overscreens.
Side inlet. Side inlet inline strainers offers a compelling time-saving convenience: users can service the strainer without removing it, in some cases while the equipment is in operation.
Basket strainers. These are larger strainers constructed to remove particulates from high-volume processes where narrower strainers would cause backup. (Here's a basket strainer "cheat sheet" compiled by SaniClean Strainers.) For liquids with a high solid content, it makes sense to choose a strainer with a greater basket area to allow for longer operation between cleaning. SaniClean is one of the top basket strainer manufacturers in the industry and can help find the right strainer for your business.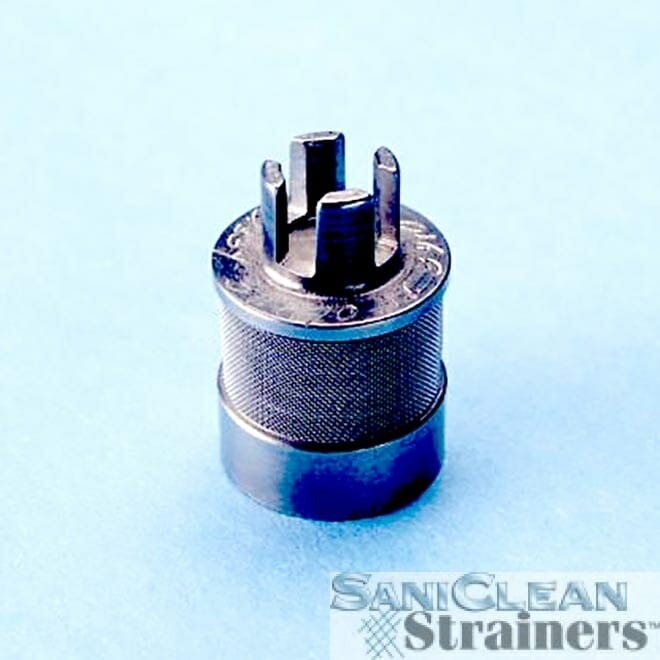 Filters
While basket strainers solve many manufacturers' needs for removing particulates alone, some products require filtration. To make it easy, companies can use back-up tube strainers fitted with an inserted filter. Look for a basket strainer with a machined flange on the perforated support basket that is counter bored so it can accept industry-standard filter bags.
Used in conjunction with one another, basket strainers and filters can provide filtration rates down to one micron (here's an entertaining look at how big one micron is). Look for sanitary filter suppliers with products that offer a quick-release handle make it fast and easy to change filters for your business.
Overscreens
Overscreens work in conjunction with inline strainers to provide an ideal filter media for sanitary applications. There are two types of overscreens:
Wire mesh overscreens. Woven from stainless steel, quality wire mesh overscreens are an ideal filter media for sanitary applications. Look for overscreens with a continuously welded longitudinal seam and hemmed with tack-welded ends for long life. Many manufacturers also offer tin-soldered cylinder ends as an option. [image file ID 4782426].
Non-woven overscreens. For industrial processes that need to be extra clean, some overscreens are punched from stainless steel sheet. These non-woven screens reduce potential contamination zones, and are ideal for more demanding sanitary requirements. They're also easier to clean than wire mesh overscreens.
When searching the marketplace for strainers, filters and overscreens, look for a manufacturer that offers a wide variety of sizes that are interchangeable with other manufacturers' equipment. Also consider choosing a company that offers custom sizes, since you may find that standard equipment won't suit all your purposes.
Things to look for when sourcing strainers, filters and overscreens:
A wide variety of standard sizes and custom options;
Easy-to-clean and change parts; and
Corrosive-resistant alloys for better uptime and longer life
Visit SaniClean Strainer's website for more information on the differences between overscreens, filters and strainers.